Hot, Dry, Summer Weather: it's why you need to use Root Rescue Transplanter
For many professional landscape companies, hot summer weather signals an end to the planting season - but not for the crews at Bruce Wilson Landscaping. The Bruce Wilson landscape crews operate continuously from April through November - planting 100's of sites both big and small. Let's see what they are doing to help the trees and shrubs that they install succeed (even during the hot summer season). Soil types and site conditions in urban Southern Ontario often create obstacles for planting success - adding summer heat stress seemingly adds to these problems. But, by adopting proper planting techniques, and caring for the root health of transplants, the summer season is a 'planting season' too.
How does Transplanter help plant roots - and how do we know that it works?
When we formulated Root Rescue Transplanter we included 9 species of both Endo and Ecto Mycorrhiza - we did this to provide the widest possible success with the 100's of plant species that Canadian landscapers and home gardeners grow. Mycorrhizal fungi are essential to the success of plants in undisturbed natural soils – but - these very valuable fungal partners for plant roots are often highly degraded by construction (landscaping) and other pressures in urban settings. A single application of Root Rescue's Transplanter restores these essential fungal partnerships to newly installed plants. We saw our new formulation work – but we wanted to have it tested by a qualified 3rd partner…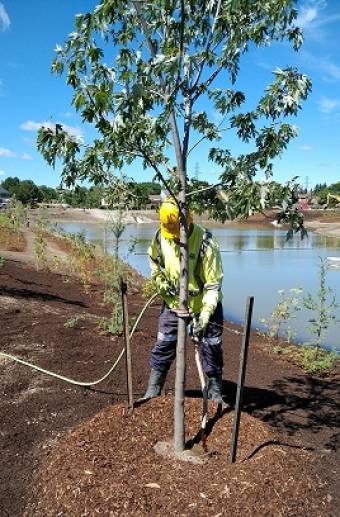 The University of Guelph tested Transplanter on 8 different planing sites in Southern Ontario
We had our formulation tested by the University of Guelph to see if it would help newly planted trees (and other landscape plants). Over four years of trials, the U of G research team tested over 2900 trees to see if Transplanter would help relieve Transplant Shock. The question they asked: does Transplanter help trees pull water up from their roots? After all, one of the leading causes of transplant failure is dehydration within the first 12 to 18 months after planting. The trials compared the 'Water Status' of treated trees to a control group. To see how this testing was done – and to look at the published results of these trials – select this link.
The simple fact is that Root Rescue's Transplanter helps plants succeed on new planting sites. And this is why a growing number of landscape professionals (and cities and towns all across Canada) use or specify the use, of Transplanter whenever new plants and trees are installed. Why? Because it works.
A new park is built in Brampton Ontario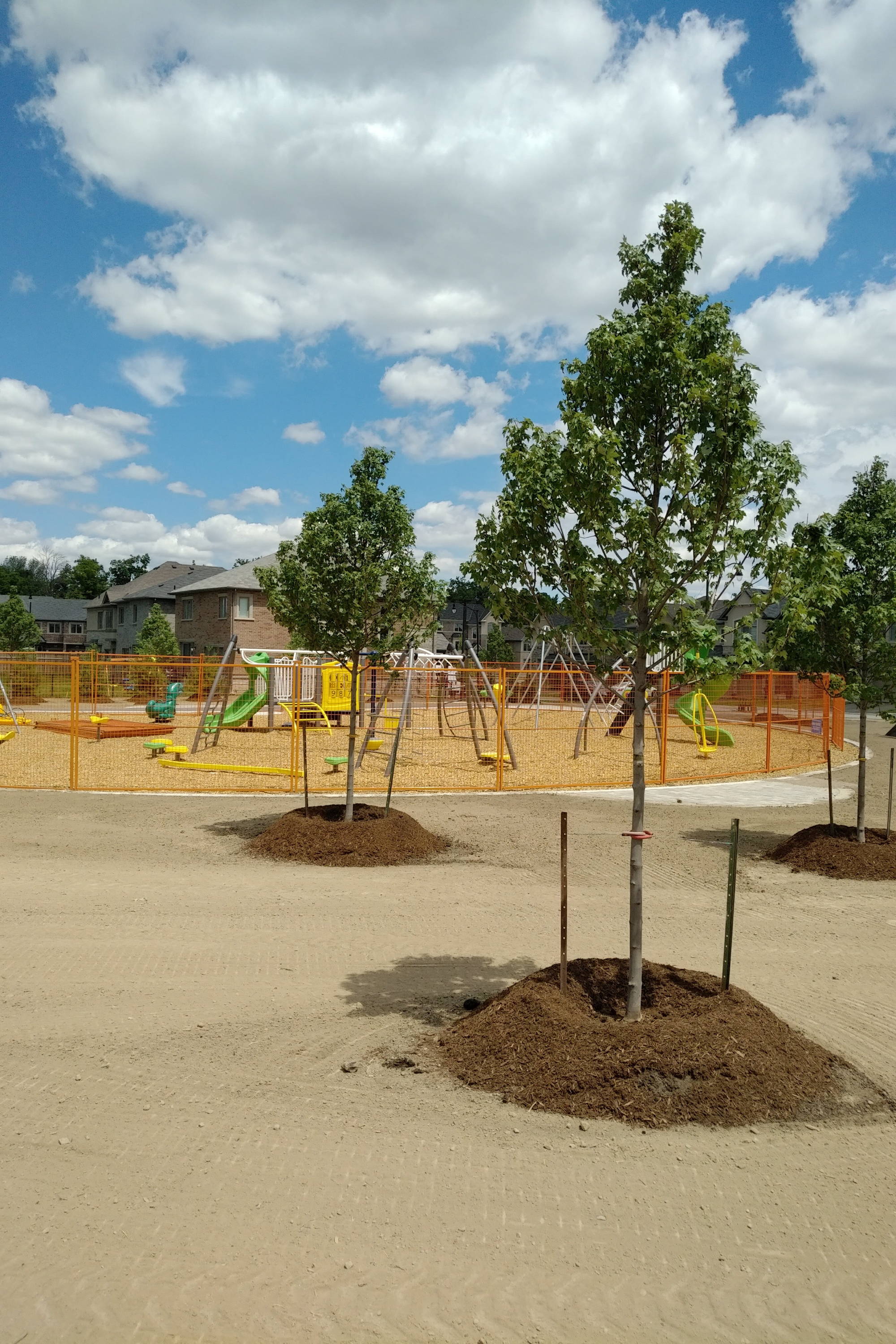 A New Stormwater Retention Pond in Newmarket Ontario

Here we take you on a tour of 2 new landscape sites being planted by the crews of Bruce Wilson Landscaping.
We see the tree planting technique used - and we watch as professional crews apply Root Rescue Transplanter
Looking for a supplier of commercial sizes of Root Rescue's Transplanter for your next planting job?
We see the tree planting technique used - and we watch as professional crews apply Root Rescue Transplanter